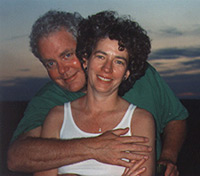 In November of 2002 John and Lucinda traveled from their Santa Fe home to New York City for a combined business and pleasure trip. Within 48 hours of their arrival they became extremely ill and were rushed to Beth Israel Hospital where they were diagnosed with Bubonic Plague (The Black Death). Due to concerns about possible bio-terrorism, John and Lucinda were isolated under intense security and became an international news item. John was placed in a coma and given a 1% chance of survival. Lucinda recovered quickly, but remained in New York at John's side while he battled for his life.
He survived, but had to have both legs amputated below the knee and eventually had to re-learn to do everything from breathing on his own and swallowing to taking his first steps on his prosthetic legs. He was hospitalized for 227 days and then endured months of painful rehabilitation. Today John and Lucinda are happily back in their home in Santa Fe and rebuilding their lives.
This website was conceived in the very early days of John and Lucinda's illness and has served as an inspiration and comfort for them throughout their ordeal. We hope you enjoy it.
BBC Interview with John and Lucinda
Surviving the Bubonic Plague: The Story of John and Lucinda Video